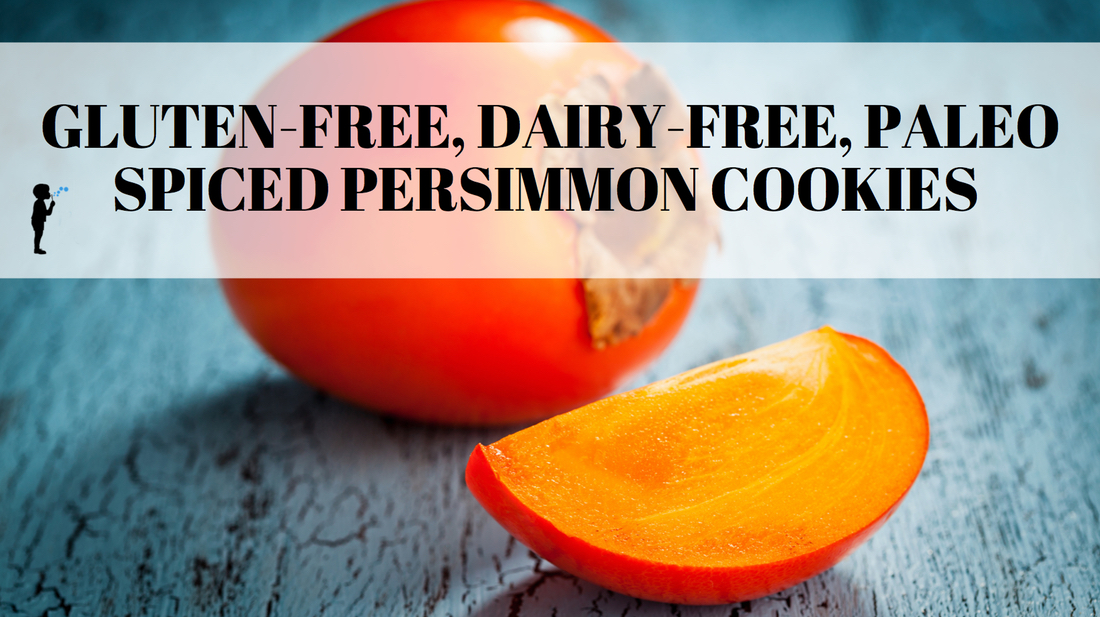 Paleo Spiced Persimmon Cookies
These delicious paleo cookies are a perfect way to celebrate the Fall season! They are soft and chewy with just the right amount of sweetness and spice and since they don't contain any grains or dairy they are a good choice for health-conscious families and families with allergies. You can also make them vegan by substituting the eggs with ground flax or chia seeds.
How to Ripen Persimmons
In order to make these cookies you will need to locate Hachiya persimmons, which are the tear-dropped shaped variety most often used for baking. It's worth noting that Hachiya persimmons are incredibly astringent (think face pucker) until they are VERY ripe. Most persimmons will need to ripen on the counter for 1 to 2 weeks before they are ready to use.

Ingredients
2 very ripe Hachiya persimmons
1 tsp baking soda
2 eggs
1 cup coconut sugar
1/2 cup coconut oil
2 1/2 cups fine almond flour
1/2 cup coconut flour
1 tsp sea salt
1 tsp cinnamon
1/2 tsp nutmeg
1/4 tsp ground cloves
1 cup raisins
1 cup pecans, coarsely chopped
Directions
Preheat your oven to 325 degrees Fahrenheit. Prepare the persimmons by removing the stems and carefully peeling them. Scoop the inner persimmon flesh into a blender and blend until smooth. Transfer the persimmon pulp to a large glass measuring cup (you should have 1 cup of pulp) and stir in the baking soda. Let this mixture sit while you prepare the other ingredients. In a large bowl mix together the flours, salt, and spices. In another bowl blend together the coconut oil and sweetener using an electric hand mixer. Add the persimmon mixture and the eggs to the oil and sweetener and mix well. Now, incorporate the wet ingredients into the dry ingredients and then gently stir in the pecans and raisins. Place cookies 2 inches apart onto lightly-greased cookie sheets and flatten slightly. Bake the cookies for 35-40 minutes, or until done.
Makes about 2.5 dozen cookies
This recipe originally appeared on Dr. Cori Burke's website under the title Paleo Persimmon Cookies.