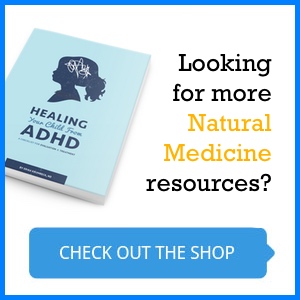 Lead can negatively effect people of all ages, but young children are the most susceptible to the effects of lead due to the vulnerability of their developing central nervous system. Exposure to lead can cause permanent central nervous system damage, lowered IQ, developmental delays and anemia among a host of other chronic issues in children.
What are the symptoms of lead poisoning/chronic lead toxicity?
For a full overview of lead, lead toxicity and symptoms of chronic lead exposure check out our article What You Need to Know About Lead Exposure in Children
Most parents and pediatricians are aware of the potential for lead exposure in homes that are built before 1978.  Children can be exposed to sources other than just lead paint, however! Did you know there are several sneaky places in (or around) your home that your family could be exposed to toxic lead?
Hand me down toys, furniture and other antiques.
There are many reasons why a family may choose to accept hand me downs, ranging from sentimental value, to financial resourcefulness, to lowering environmental impact through recycling and reusing. If you have older furniture and toys, you may want to test them for lead paint. This is especially important if you're getting hand me downs and family heirlooms from grand parents or antiques from estate sales. You can find simple and easy to use home lead test kits here. You may want to test any antique furniture that you have in your home too. Signs of leaded paint include a "crocodile skin" pattern of cracking in paint, antique yellows, reds and greens also often contained lead paint. Metal objects such as ornaments were often painted with lead paint as well. Be wary when visiting friends or family homes that were built before 1978. If you are in an older home, keep an eye on where your child spends time and whether they're picking at paint chips or playing with antique furniture or toys that may contain lead. Lead has a sweet taste, so many children expose and re-expose themselves.
Soil
Good 'ole dirt is another source of lead exposure for children. After the recent publication of Let Them Eat Dirt: Saving Your Child from an Oversanitized World by Brett Findlay and Marie-Claire Arietta, more and more parents are opting to support healthy immunity in their children by encouraging them to play outside and get dirty. However, in some areas, dirt is heavily contaminated with heavy metals. Learn about the history of the land you live on, what industries were in the area in the past that may impact the dirt you live on. You can use Score Card to plug in your zip code and learn about environmental pollutants in your area. You can also get your top soil tested for lead to ensure that your back yard won't be an exposure source for your children.
Spices and supplements
Health conscious parents will frequently boost the nutritional value of their child's diet by incorporating herbs and spices into cooking and using nutritional supplements. I would advise all parents to use a healthy level of caution with spices and supplements because spices and supplements have been identified as sources of lead exposure for many families. Specific spices to watch out for are ginger and turmeric. The imported spice industry from countries such as India will often add lead to spices to increase the weight of their product in order to gain a financial profit. Unfortunately, this practice is incredibly harmful. If you're purchasing spices, find out whether the companies you're purchasing from do regular lead testing on every batch of spice they produce. The spice manufacturer Indus Organics does claim to test every batch of their spices for metal contamination, this level of added protection for consumers is rare in the industry. If you're choosing to give your child supplements, make sure you're using reputable brands of supplements. Often, naturopathic doctors and functional M.D's have the training to understand which supplement companies quality control testing to ensure their safety in use. Over the counter supplements from health food stores may be lower quality and contain heavy metals and harmful fillers. Also, imported traditional Chinese and Ayurvedic herbal and topical medicines are often a source of heavy metals.
Water
Water may occasionally contain lead due to leaded pipes. Homes built before 1989 will often have lead solder in their pipes. Therefore, it is never recommended to use hot or warm tap water for consumption. Always let water run for a few seconds before collecting it to drink. I often recommend that families purchase a water filter in order to filter out common toxins that are found in tap water for use for the children and/or expecting mothers. The Berkey is my favorite water filtration system.
Worried about lead? Test and treat your child for iron deficiency anemia.
If your child seems to bruise easily, is eating inedible objects or seems paler than usual, you may want to get them tested for anemia. It is actually somewhat common for breastfed children to be anemic!  Increased risk factors include maternal anemia during pregnancy, premature birth, maternal hemorrhage during childbirth, premature cord clamping (as opposed to delayed cord clamping), and delayed solid introduction.  All of these can increase the risk of an infant developing iron deficiency anemia.
When a child is anemic the digestive system increases the capacity to take in iron among other metal ions. As a result, children with iron deficiency anemia are much more susceptible to absorbing higher levels of lead and other metals on exposure. In a way, guaranteeing that your child is not anemic is a way of reducing the likelihood of absorption of lead and other metals through the GI tract. If your child seems to be constantly struggling with anemia, in spite of being on a varied diet, you may want to consider asking your pediatrician to run a fecal occult stool test. This is an easy test that lets your pediatrician know whether there is small bleeding occurring in your child's gastrointestinal tract. If this is occurring, it's possible the anemia may be due to foods such as cow dairy that is causing inflammation and micro-tears in your child's intestines, leading to bleeding and anemia.
Please share!
If you learned something from this article, please consider sharing it with any new parents or parents to be. The more we know about these potential dangers to our children, the more preventative measures we can take in protecting our children.