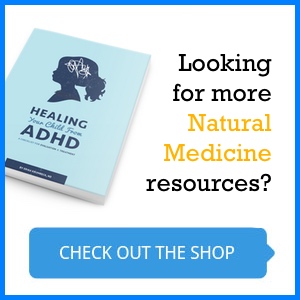 Could you imagine your child begging to drizzle their medicine over oats or pancakes, or even eat it right off the spoon? Well, if you haven't heard of elderberry syrup, elderberry gummies, or elderberry lollipops and lozenges, you can start getting excited now! In this article you will learn why elderberry is so powerful, how to choose between its many different forms, and how to use this yummy medicine to prevent and treat illness for your kiddo(s).  As a bonus, a recipe can be found at the end of the article teaching you how to make a simple, useful, and cost-effective elderberry syrup!
How does elderberry help against viruses?
Just like the name says, elderberry is a berry – like a blueberry or raspberry. However, unlike the typical berries we eat, it has potent anti-viral properties when prepared at medicinal concentrations. We don't eat elderberries like other berries as they are too astringent for most palates. However, when cooked and mixed with honey (or other sweetener) they are not only delicious but also have a variety of health benefits. As a superhero berry, their power lies in their strong anti-viral ability to coat our cells like a protective armor, preventing viruses from infecting those healthy cells. In short, elderberry's properties make it act as a literal shield against viral attack. Additionally, the berries contain rich anthocyanins that decrease symptoms and shorten the duration of illness due to their effective anti-inflammatory action. They are also packed full of flavonoid antioxidants, vitamin C, and potassium – all which help support the immune system.
Do elderberries need sweeteners?
As mentioned above, fresh elderberries are not to be eaten whole and raw, rather, they need to be cooked and sweetened in order to be both medicinal and also palatable. But don't we want to avoid sweeteners during times of sickness? The answer is yes, not only during times of illness but as the general rule of which to eat because refined sugars do, in fact, lower the function of the immune system. However, with every choice we make, we must weigh the risks and benefits. As a naturopathic doctor and mother myself, I see such great outcomes using elderberry syrup that the benefits of the anti-viral, immune boosting and anti-inflammatory mechanisms outweigh the negative implications of the sweeteners. Thankfully, there are many ways to take this medicine, and some contain less sugar than others. The choice is yours.
Which form of elderberry is best for my child?
As with all medicines given to children, one of the first considerations you may be having for your child is, "can and will my child even take this?" If you have a child that cannot swallow pills, the next step is to find a powder, liquid, chewable, or gummy form of that medicine. There is a certain level of troubleshooting that is inherent to this process, because every child has different taste preferences. If your child doesn't like the taste of a powdered form, then you may want to try a liquid or chewable. Luckily with elderberry, you have many forms to choose from and they are all very tasty. Let's explore the options:
Liquid syrup
This is by far the most common form you will see on the shelves of your health food store, and is the easiest to make at home (*see recipe below). Elderberry syrup is thick, dark purple, and absolutely delicious. It can be taken straight off the spoon, mixed in water, added over fruit or nut butters, or virtually any food that would taste good with a berry-sauce topper. You can be very creative with this one! Most children have no problem enjoying this medicine, which makes it easier on you parents as you try to navigate a sick child.
Syrups are sweetened most commonly with honey*, agave, or cane sugar. My favorite brand of elderberry syrup is one of the foundational supplements found in the Nourish Kids Medicine Kit, and is simply called Elderberry Syrup made by Wise Woman Herbals. It is sweetened with vegetable glycerine, which is an excellent low-sugar option that will not spike blood sugar like the other sweeteners mentioned. This is because glycerin is very low on the glycemic index (GI), which rates different foods from low (good) to high (bad) on a scale of how much they affect blood sugar (GI index of 3 for glycerine, compared to 65 for cane sugar). This means that it is safe for infants all the way through adulthood, and will not cause tooth decay.
*PLEASE NOTE that children under 12 months of age should not consume honey due to risk of toxicity, and therefore be certain to read the labels carefully if you intend on giving elderberry syrup to your infant.
Powders

Elderberry powder alone may be difficult to find, but effective mixed-nutrient immune powders are available. My favorite, and another foundational Nourish Kids Medicine Kit remedy is called Berry Well Immune by Vital Nutrients. This powder can be mixed with water or diluted juice, or even made into popsicles. It has a lightly sweet berry flavor that most kiddos enjoy thoroughly. 
Gummies
You may see elderberry gummies in your health food store or pharmacy. Children tend to love them, and they are very easy to give, but be aware that gummy forms of most medicines, and certainly of elderberry, often contain the highest amounts of sugar. Some brands even add artificial colors and other flavors which are best to avoid if possible. Lastly, I find that gummies do not contain as much medicinal potency as the syrups contain, per dose. This means you would need to give your child more gummies to reach the desired dose, which also means more sugar.
How do I use this yummy medicine to prevent and treat illness?
Elderberry can be used daily during cold/flu season to act as a preventative measure, or it can be used acutely once the first signs and symptoms of illness begin to take place. The key here is to prevent the virus from spreading from cell to cell by taking the elderberry very early on in the progress of the illness. This way, the cells are protected and the immune system is revved up and ready to go.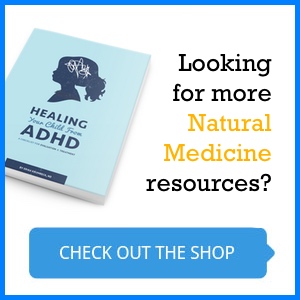 Can adults take elderberry? Or is this tasty medicine just for kids?
Yes, of course! Adults, don't feel left out! Higher doses are required for adults in order to have the same immune boosting effects, but of course it will also help act as a general immune tonic while also decreasing inflammation and shielding viruses from infecting healthy cells. Just be careful not to overindulge on ice cream when you find out how yummy elderberry syrup is as a topping!
Are all brands and distributors created equal?
Unfortunately no, not all brands and supplement distributors are created equally. As a naturopathic doctor, a huge aspect of my job requires vetting the brand quality and safety of what I choose to prescribe to patients, and then further assessing which distributors I can rely on to provide those supplements in their purest form, properly labeled, and non-expired. This is where resources such as my Nourish Kids EBook becomes helpful. It serves as a list of all of my favorite pediatric remedies and how to best purchase and use them. While Amazon is incredible for fast and quick items, the quality of supplements bought here cannot be guaranteed. We've heard stories of supplements being mislabeled, tampered with, or improperly stored in facilities that can expire a product quickly and even make it rancid. Yuck!
And now, for those kitchen-creatives who enjoy crafting their own medicine, I present to you the simple and effective, Homemade Elderberry Syrup recipe!
Homemade Elderberry Syrup: For those who prefer to make it themselves!
1 cup dried elderberries
3 cups filtered water
1 cup raw honey (*choose another sweetener if your child is under 12 months of age)
Method:
Combine the berries and water in a pot and simmer on medium/low, uncovered. Once the water is reduced by half, turn off the heat (approximately 30 minutes of simmering).

Mash the berries and water with a spoon, fork, potato masher, etc. and pour through a fine meshed strainer. Discard the pulp and save the liquid.

Place the liquid back into the pot and simmer for another 15 minutes.

Strain the liquid again through the fine meshed strainer.

Return the liquid back to the pot without heat, and add the honey. Stir well until the honey is completely dissolved.

When the syrup has cooled, pour into glass bottles or jars and tightly seal.

Label, date and store in refrigerator. The honey acts as a preservative. This recipe will last up to 1 year in the refrigerator.  
Making homemade elderberry syrup is not only cost effective, but a great activity to do with your children to show them that medicines can be made right in the kitchen! They also make great gifts around the holiday times when kiddos tend to get sick often!
Still sick?
Check out our article: Foods to Eat When You or Your Child are Sick